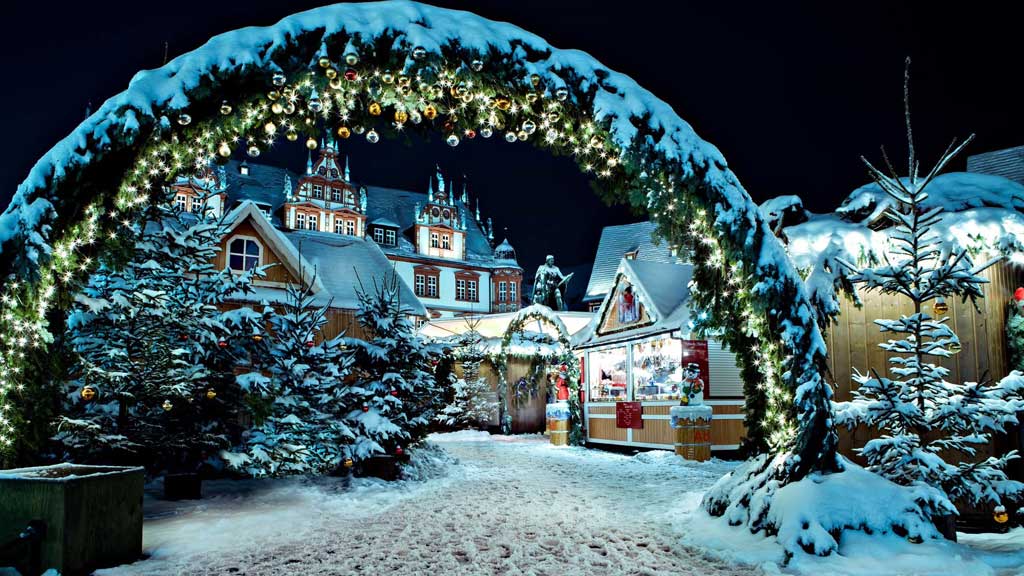 The world's 11 most charming Christmas markets

This is the season, of family, snow, laughter and hot chocolate. What better way to spend the days leading up to Christmas than indulging yourself in some of the world's most charming Christmas markets. Enjoy a hot chocolate or a beer while browsing unique gifts and experiencing local Christmas traditions. Cinnamon Events presents a list of the world's 10 most charming Christmas markets.

Budapest, Hungary
Enjoy the Hungarian Christmas tradition with a stroll through the country's most spectacular holiday market. Browse the stalls while enjoying flódni (the Hungarian cake). This markets also showcases attraction such as an ice skating rink surrounded by a Christmas tree and a 3D monumental light show that is projected over St. Stephen's Basilica.
Copenhagen, Denmark
While Copenhagen is infamous for its many Christmas markets, the best has to be Tivoli Gardens. From the 18th of November to the 31 of December this historic garden is adorned with reindeer, stalls and even rides. Making this market something out of a fairytale. Indulge yourself in Danish snacks like æbleskiver (doughnuts with black jam) or steaming hot mulled red wine to fight off the cold!
Dresden, Germany
Germany has many famous Christmas markets, The Dresden Striezelmarkt, is a must see. This traditional Market, includes various musical performances every year, to special activities for advent. Enjoy a piece of Stollenmädchen, or Fruitcake Maiden, while wandering some of the 230 craft stalls that this market has to offer. Another
Madrid, Spain
One of the most beautiful Christmas markets in Spain takes place in Plaza Mayor. Browse 100 log cabins while sipping on a hot chocolate or eating churros. Each year the city is also adorned with Christmas lights which make for a fantastic stroll around the city.
Moscow, Russia
The Red Square Christmas market is something out of a book. Enjoy browsing Christmas stalls with the famous Red Square as the backdrop. This market is filled with rides and an ice skating rink. The best part? It is open until late January, because Orthodox tradition celebrates Christmas on the 6th of January.
New York, United States
Europe isn't the only continent with fabulous Christmas market. Bryant Park Winter Village, in New York is another winter wonderland. While it is newer than its traditional european counterparts, it is just as magical. Along with 176 stalls this market also includes an ice skating rink. Don't want to miss out? No need to worry, this market is open from 28th of October until March 4th of 2018.
Nuremberg, Germany
Another charming market in Germany is the Christkindlesmarkt of Nuremberg. Enjoy a mix of sweet and salty, while indulging yourself in traditional gingerbread and German grilled sausages. Browse stalls that date back to the 18th century while enjoying advent Christmas traditions in this pleasant town.
Strasbourg, France
The Christkindelsmärik is one of Europe's oldest Christmas markets, having first opened in 1507.  From the 24 of November until the 30th of December 2017 in the city that is known in France as "the capital of Christmas," experience the winter wonderland.  The market consists of about 300 chalets where you will find things such as hand made decoration, local food and wine, and lots of Christmas spirit!
Tallinn, Estonia
Another eastern european winter wonderland. The charming city of Tallinn is home to a Christmas Market that has a touch of fairytale. Each year the town hall is adorned with Christmas decorations, stalls, and even reindeer. Visitors can browse the stalls while munching on traditional Christmas delicacies.
Toronto, Canada
Held in the city's historic Distillery District, Toronto Christmas market brings old european tradition together with a modern Canadian twist. Attractions include brass bands, folk dancers, and a beer garden. There is also a life size gingerbread house for the children. All in all, this market has something special for every age.
Vienna, Austria
The Christkindlmarkt of Vienna opens its stalls the 18th of November. Here, visitors can shop while enjoying pastries, candied fruit, and roasted chestnuts all while sipping on Weihnachtspunsch, warm wine mixed with brandy and fruit.